A/C Repair Installation Service Philadelphia
As the temperature begins to rise in Philadelphia you begin to realize your need for a quality air conditioning service provider. Daniels HVAC can install, maintain, repair, or replace air condition systems service for your home or business; and has been doing so for over 25 years. Philadelphia has a large variety of homes differing in size, shape, and structure. The "one size fits all" air conditioning mindset that many HVAC companies utilize these days ends up costing YOU. Daniels HVAC will always work to provide the very best in quality and price, taking no shortcuts… after all, you don't become a trusted HVAC company serving Philadelphia for over 25 years by cutting corners.
---
Daniels HVAC provides quality air conditioner repair, air conditioner service, air conditioner maintenance, air conditioner replacement, and air conditioner installation services in Philadelphia. Call Nathaniel today to schedule an appointment.
---

Daniels HVAC can help you explore your air conditioning repair options in Philadelphia
Daniels HVAC has extensive options for air conditioning system installations. Whether you have a new home, or you want to replace an older system, Daniels HVAC is ready to help. A properly installed Daniels HVAC air conditioning system is the first step in ensuring that you receive years of dependable performance from your new Air Conditioning system. This is why it is important to have your air conditioning system installed by a dealer-certified air conditioning expert like Daniels HVAC. Call us today so we can provide you with budget-minded solutions and show you what makes Daniels HVAC in Philadelphia the HVAC company that has been setting the bar for "comfort service" for over 25 years.
AC Repair Service Philadelphia
When the time comes to repair your residential or commercial air conditioning system in Philadelphia you can trust the 25+ years of experience at Daniels HVAC will be there to help. Our years of air conditioning service and repair in Philadelphia give us a unique skill set when diagnosing and repairing older air conditioning systems. Our expansive knowledge and access to hard-to-find parts help Daniels HVAC stretch the life of your air conditioning system as well as your repair budget.. just a little farther.  If it becomes necessary to replace your air conditioning system Daniels HVAC offers high-efficiency air conditioning units from top manufacturers with industry-leading warranties.
We will beat any legitimate written estimate… period! We know that once you have experienced "comfort service" from Daniels HVAC in Philadelphia you'll be a customer for life!
AC Service Philadelphia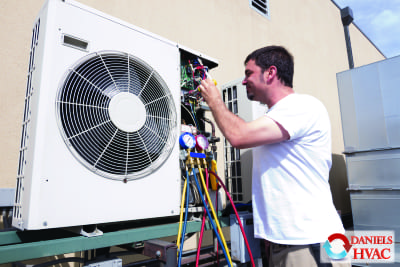 If you need to set up an AC service plan for your home or business's cooling system, call Daniels HVAC… Our factory-trained and licensed technicians can work with your current or new air conditioning system to help ensure that you get the best possible performance from your system for as long as possible. Having a regular maintenance program from Daniels HVAC in Philadelphia is simply the best way to extend the life of your air conditioning system, and save money on repair costs and your monthly utility bill as well.
Here are a few services we perform in our standard AC Service inspection:
Inspect the air conditioning motor, test amperage, and inspect fan blades
Check the AC refrigerant level and pressure test for leaks
Charge your AC system as needed
Inspect AC wiring
Clean the AC  condenser and evaporator coils removing debris
Flush AC condenser drain
Clean and adjust AC blower components
Inspect AC capacitors
AC installation Philadelphia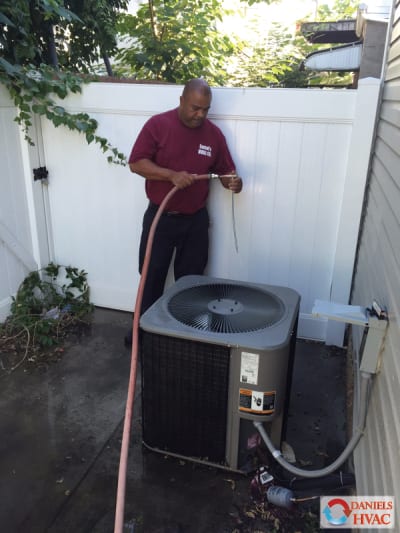 Needing to replace an air conditioner is an important investment and can be quite intimidating. Who do I call? Is the company going to be in business in 5 years? Do they have manufacturer-backed warranties? Philadelphia has had its share of "fly-by-night" Air conditioning businesses over the years; which is why Daniels HVAC has earned the reputation of stability and "comfort service" over the last 25+ years. You can trust that we will walk you through the air conditioner replacement process, step by step, answering any questions you have along the way.
When to replace your AC in Philadelphia
When the cost of maintenance for your AC in Philadelphia becomes excessive (More than 4 service calls per year)
If the current efficiency level of the AC is affecting the monthly budget
An air conditioner repair because of age that would be greater than 40% of the cost of a new Air Conditioner
A home addition or renovation that would strain the current size of your air conditioner
Freon leaks out and can't be repaired
AC Installation Philadelphia
In new home construction, many Philadelphia homeowners enjoy the cost-effective air conditioner as an option. Trust Daniels HVAC with their 25+ years of air conditioner installation experience in Philadelphia to get the job done. Our vast knowledge of air conditioner types in Philadelphia and their advantages makes us the perfect fit for your air conditioner installation project. We work closely with the homeowner and the general contractor to make sure that all Philadelphia building codes for air conditioner installations are closely followed to not slow the construction process. We also will work with the general contractor on the time budget for the air conditioner installation as in new home construction in Philadelphia the air conditioner installation at times needs to be performed in phases.
When AC Experience in Philadelphia matters…
When Daniels HVAC in Philadelphia shows up at your home or business for an AC repair, AC service, air conditioner maintenance, air conditioner service, or air conditioner installation in Philadelphia; we don't show up with a textbook. We show up ready to work! We will utilize our experience working on AC in Philadelphia to solve the issues that sometimes other inexperienced AC repair services create. Let Daniels HVAC in Philadelphia handle your air conditioner repair, air conditioner service, air conditioner maintenance, air conditioner replacement, or air conditioner installation right the first time.
Contact Daniels HVAC today to schedule a service or get a quote on air conditioner repair, air conditioner service, air conditioner maintenance, air conditioner replacement, or air conditioner installation services in Philadelphia.
When looking for an AC repair, AC service, AC maintenance, AC replacement, and AC installation in Philadelphia it is important to look for an HVAC company with the experience to get the AC repair, AC service, AC maintenance, AC replacement, and AC installation in Philadelphia done right the first time. We take pride in our over 25 years of AC repair, AC service, AC maintenance, AC replacement, and AC installation in Philadelphia. Customer satisfaction has been a cornerstone of our AC repair, AC service, AC maintenance, AC replacement, and AC installation service in Philadelphia which is one of the reasons we have been serving Philadelphia for so long. We