Plumbing Repair Service in Philadelphia
Water Heater Installation
For years Daniels HVAC has provided area customers with superior plumbing service and value. 
From the beginning, Daniels HVAC  in Philadelphia has been dedicated to offering plumbing solutions designed to fit not only your budget and schedule but also your need for high-quality plumbing workmanship. 
One thing that will never change is the Daniels HVAC  commitment to providing quality plumbing service.  This has resulted in a loyal customer base in Philadelphia that has kept coming back over the years.  And, it's the Daniels HVAC & Home Services certified plumbers that keep making the difference in that regard.  Our dedication to providing friendly, dependable, and reliable plumbing service in Philadelphia has been the cornerstone to their success.
---
Daniels HVAC & Home Services provides quality Plumbing repair, maintenance, and replacement services in Philadelphia.
Call Nathan today to schedule an appointment.
---

Plumbing Repair 
Daniels HVAC  knows that the last phone call you want to make is to a plumbing repair service in Philadelphia. But when that day comes, trust Daniels HVAC to provide timely plumbing repair and a competitive price. Within our certifications in the HVAC arena, we have to be thoroughly trained and certified in plumbing repair to facilitate boiler and water heater services… this experience over the last 25+ years has given us the trusted experience working with all types of plumbing repair from drain cleaning and leak detection to faucet and garbage disposal repair. In Philadelphia, many plumbing repair companies claim to know to handle complex plumbing repairs, but so few of these plumbing repair contractors have the experience to back it up. We stand behind our 25+ years of expertise with plumbing repair and have never failed to handle any plumbing repair we have come across. All of Daniels's HVAC  plumbing repairs specialists in Philadelphia are cross-trained to handle any type of plumbing repairs. We can diagnose and repair any issue with your plumbing the first time!
Here are just a few of the plumbing repairs that Daniels HVAC in Philadelphia can assist with:
Drain Clearing Service

Toilet repair and replacement

Kitchen, bathroom, and utility Faucets and Garbage disposals

Exterior water spigot leak repair or replacement

Sump Pump repair or replacement

Leak detection for water, sewer, and air.
What are some signs of hidden plumbing problems?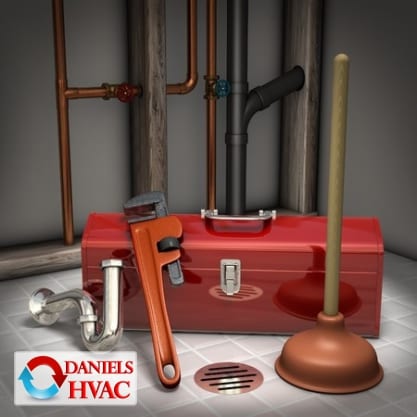 A toilet that does not flush completely twice a week or more.

Smelly bathroom

When you flush the toilet, water comes up through the drains in the bathtub.

Sink or toilet that makes a gurgling or popping noise

Toilet, sink, or bathtub that drains slowly and sometimes has sediment floating.

Wet spots and/or uneven lawn
If you've experienced one or more of these warning signs, you need to call Daniels HVAC & Home Services TODAY.
Best Practice solutions to preventing clogged drains
Do not pour cooking grease down the drain.

Do not pour coffee grounds down the drain or garbage disposal.

Inspect the bathtub stoppers every 90 days or so for hair and buildup of biofilm (that nasty mixture of bacteria, soap residue, and body oils).

Use a drain screen to catch larger particles when rinsing dishes before washing.
Broken Pipe repair 
Broken pipes can be a minor or major issue in Philadelphia. Because our great city has been around for a long time there are many older homes and buildings that either have broken pipes.. or soon will. Over time rust and acidic agents eat away at the pipes from the inside causing leaks. Exterior exposure to the ever-changing Philadelphia climate can cause the materials of the pipe to break down leading to a broken pipe. Seen first at the joints and connections this warning sign can be throughout the home or business creating broken pipes, sometimes in hard-to-repair places. Often a broken pipe repair can be a replacement of a damaged fitting or section… other times a large amount of broken or deteriorating pipes will need to be replaced. Regular inspections are recommended for Philadelphia homes and businesses and can be performed by a certified plumber from Daniels HVAC & Home Services; but if a broken pipe repair is needed be sure to call on us for timely, expert pipe repair.

Pipes repair 
For many of our homes and businesses in Philadelphia, frozen pipes are a reality. When it gets cold… pipes freeze and when they do call Daniels HVAC & Home Services BEFORE you try it on your own! Often a homeowner will get out the blow torch and try to thaw the frozen pipes but this little trick ends up causing more damage than good. The extreme heat weakens the pipe and if you end up doing that in the same area just 2 or 3 times… crack! A frozen pipe ends up flooding the basement while you are away. Daniels HVAC and Home Services can not only help correct a frozen pipe safely but take preventative measures as well. Sometimes we can redesign a duct system slightly to prevent frozen pipes or add insulation; this comes from our 25+ years in the HVAC industry seeing and working with nearly every frozen pipe scenario in Philadelphia you can think of.
Plumbing services Philadelphia
When you need to have plumbing installation in Philadelphia done, trust the experts. Bathroom faucets and toilets, kitchen faucets and garbage disposals, outdoor spigots and utility sinks… we do it all. When we show up on the scene we don't bring a textbook; we show up with over 25 years of Philadelphia experience living and working here. We understand the unique demands that homes in Philadelphia take so we don't have a one size fits all plumbing installation mindset. We handle every installation with the attention to detail it deserves. We know and understand that you are busy… you need the plumbing installation done and done right… the first time! Trust Daniels HVAC and Home Services for all your plumbing installation if Philadelphia needs it.
Plumbing Maintenance Philadelphia
Much older Philadelphia homes have pipes going everywhere. Through the walls, under the floors in the basement, into water heaters and boilers, outside and through irrigation and sprinklers. The older the system the greater chance of pipes breaking, leaking, corroding, freezing, and getting clogged due to dust and debris. Daniels HVAC and Home Services in Philadelphia offers an annual inspection where our expert team will visually inspect and test key components in your plumbing system. From bathroom and kitchens down through the pressure vessels and more a thorough inspection can help prevent costly repairs that are left unattended to may cause costly repairs in water damage and more.

Water heaters are just about in every Philadelphia home sporting every shape and size imaginable. In addition, there are multiple fuel sources that water heaters use making it necessary to have a fully trained and certified water heater repair service to tackle any water heater repair in Philadelphia that might come along. Because water heaters are, for the most part, hidden out of view… so a problem may be lurking and you not realize it until it results in a water heater repair. Water heater repairs naturally can be avoided with proper maintenance and inspections. Be sure to call on Daniels HVAC and Home Services to properly inspect, maintain and repair as needed. With our 25+ years of plumber service repairing water heaters in Philadelphia, we are the perfect affordable solution for your water heater repair.
Water Heater installation Philadelphia
Cost-savvy customers in Philadelphia interested in water heater installation for energy efficiency will want to contact Daniels HVAC and Home Services. Many old water heater systems in Philadelphia may be corroded or use an unsafe fuel source. Daniels HVAC and Home Services work with top manufacturers to provide the best price for high-quality, efficient gas water heaters. Electric water heater installation isn't always the answer though. Often a gas water heater in Philadelphia does not need to be replaced; many plumbers are quick to recommend an installation water heater when parts become hard to find. At Daniels HVAC and Home Services, we rely on our over 25 years serving Philadelphia and the resources we've developed to get hard-to-find parts of water heater repair Philadelphia and extend the life of your gas water heater. Replacement one day may be needed, but when it does you can be assured that we will recommend water heater installation only when it is the best option for you. Gas water heater installation, electric water heater installation is second to none when you call Daniels HVAC Philadelphia to repair or install a gas water heater or electric water heater.
When is a water heater installation Philadelphia needed
When the cost of maintenance for your water heater in Philadelphia becomes excessive (More than 2 service calls per year)
If the current efficiency level of the water heater is affecting the monthly budget
A water heater repair because of age that would be greater than 40% of the cost of a new water heater
A home addition or renovation that would strain the current size of your water heater.
When Plumbing Experience in Philadelphia matters…
When Daniels HVAC in Philadelphia shows up at your home or business for plumbing service or plumbing maintenance in Philadelphia; we don't show up with a textbook. We show up ready to work! We will utilize our 25+ years working in Philadelphia to solve the issues that sometimes other inexperienced plumbers create. Let Daniels HVAC in Philadelphia handle your plumbing service or maintenance right the first time.
We will beat any legitimate written estimate… period! We know that once you have experienced "comfort service" from Daniels HVAC in Philadelphia you'll be a customer for life! Contact us today to get started on a custom quote or to schedule your free estimate over the phone.