Air Conditioning Freon Leak Repair Service Philadelphia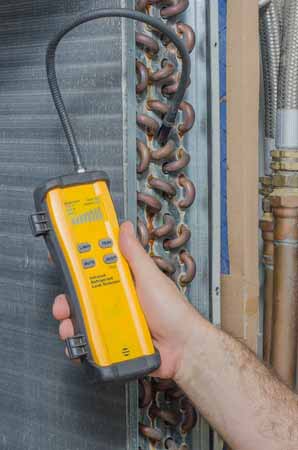 Trying to fine a air conditioning Freon leak will take some valuable time & work, replacement of a coil, maybe the line set, reclaiming the Freon, triple vacuum and recharging with new Freon. We don't reuse the old Freon because it may be putting trouble back in the system. We have found that the old Freon may have non-condensable or acid in it.   R22 is now more expensive these days. Maybe an independent AC guy will be cheaper but you get what you pay for. A professional repair service like Daniels HVAC Philadelphia company you get the value of knowledge, schooling, certifications, and the right tool investment, insurance, guarantee. In other words, we don't use any band-aids.  
About that AC guy most leaks come from poor installation practices or taking short cuts.. that why we say you get what you pay for !
$1000 could be a bargain in some cases. $1000 to $2000 to fix a leak sounds a bit high, sometimes repairing a leak can be a daunting task, other times its a simple matter. I would definitely suggest you get a couple of estimates. Many companies do not like to repair leaks and would rather replace the unit. So, they give high estimates other companies will try to sell you on a quick fix like adding stop leak. Please beware your unit should only have Freon in it not other stuff.
To do the job right to get a roundabout cost of a Freon leak repair. 1-A few things you will need to keep in mind new Freon is a must. The average unit take about 6-8 lbs of Freon at around $90 lbs. 2-The time it take to search for the leak like taking the unit apart. 3-Recovery of the Freon and pressure test for leaks or using a leak detector and or adding die to the unit. 4-Triple vacuum. Also, pressure test with dry nitrogen than test again with dry nitrogen. 5-Don't forget to try and fix it with the brazing of the joints with dry nitrogen running in the system. 6-Maybe replacing of a part or two.
When there is a leak or leaks, MOST of the time the Freon is leaking around the coils, which are EXTREMELY expensive to replace. We're talking about a roughly $2000 repair job to replace the copper coils, when you can get a new system for $4000. In cases where your system is 10 years old, replacing the coils is foolish anyway as the system may not be good for much longer.
So when someone quote the price $1500 to repair Freon leak that's some of the things they will most likely be thanking of. So, leak repair or leak detection is possible to be done you just have to get the right person to do the job. Hopefully you will get positive results.
Useful Links
Learn More about A/C Repair Services offered By Daniels HVAC Philadelphia – Click Here
See what our customers are saying about our HVAC Repair Services Philadelphia – Click Here