Water Heater Repair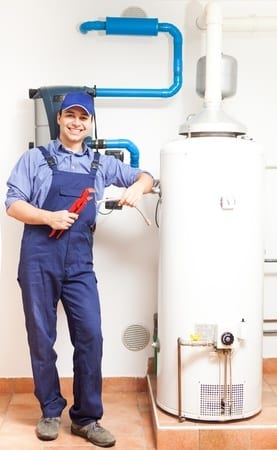 In Philadelphia, October and November are the months where we welcome the fall season, with orange leafs and chilly air and soon December comes by bringing the freezing season and snowfall. As much as we all love winters; the joy of wearing coats and boots and walking in the streets at night, or wrapping ourselves in warm blankets with a cup of coffee in our hands, it is with no denial that winters bring sickness along. The last thing you need is constant sneezing and fever ruining the winter joy for you, so it's better to be safe by taking precautions beforehand.
One of the major reasons why people often catch cold in these months is because of cold water running in the house, of course, people do have water heaters repair and boilers repair but often these things don't work or need repair. So if you have a water heater installed which needs a water heater repair and maintenance because winter season is approaching, don't panic, here's what you need to do!
About us:
For all the people living in Philadelphia, we are a company that have vowed to facilitate you in every way possible, which is why we are among the leading companies in the water heater installation, water heater repair and maintenance field. Daniel's HVAC company Repair water heater and services water heater. they are now with a new mission of making your winters cozy and warm by installing water heaters, installing boilers, giving plumbing and electrician services within the Philadelphian vicinity. We are a trusted company among our clients because we promise to provide you with satisfactory services at affordable rates, and our experience of over 25 years in this field speaks for us on many levels. You can visit our website mhttps://danielshvacphiladelphia.com// for more details about our water heater repair service.
Water heater repair:
We understand how often water heaters need repair because of the erroneous work some companies might do, thus we are here to provide you with 100% authentic water heater installation and water heater repair service which isn't only satisfactory but also durable in life. We have our ways of dealing with such water heaters and our sophisticated team is well trained in this field of water heater repair. After our repair, here is what you can do on your part to maintain water heaters further to ensure its proper running.
Tips to maintain water heaters:
Try lowering the temperature at 120 degrees, this will not only save you energy bills but will be adjustable to the blazing water on your skin.

Every year test the temperature-weight alleviation valve by rapidly releasing it a few times. After the testing, look out for little holes from the valve.

Constantly do mini flushes to guarantee effective running of the heater.

Protect more established units with a fiberglass coat to enhance proficiency.
Contact us: 267-971-3639
Repair problems can knock at your door at any time, which is why we give you the convenience to ring us any time as we provide our services 24/7. You can find our number on our website and you can even contact us online, we are prompt in responding to our clients, so call us 267-971-3639 and we will be obliged to serve you.