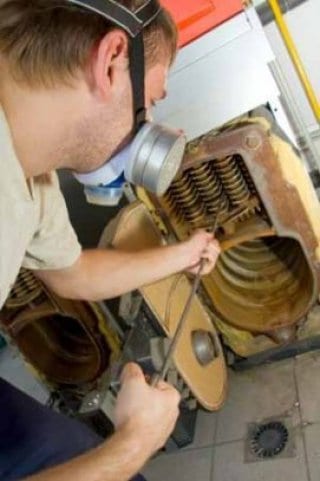 Boiler powered heater systems in Philadelphia have come a long way over the last 100 years. This type of heating system is one of older forms of heating homes and businesses and is well known for its reliability and lack of a need for a boiler repair service Philadelphia. While the technology has increased efficiency in boiler heating systems in Philadelphia over the years, the basic principles of the boiler powered heating have remained much the same. Just because a system is reliable doesn't mean that it doesn't need boiler repair service from time to time especially on boiler systems that have years on them.
The basics of a boiler heating system
A boiler is simply a pressure vessel whereby a water is heated to become steam that is circulated through a series pipes and regulators to a radiator, baseboard or radiant heating tubing. The radiator (most common) will use a natural phenomenon of convection to circulate the heat throughout the room. For larger spaces a fan or forced air conduction system may be utilized especially on more modern boiler powered heating systems. Daniels HVAC is a professional boiler repair service in Philadelphia that for over 25 years has been Philadelphia's best choice to inspect and maintain your boiler heating system. In doing so Daniels HVAC can identify any areas of concern that may cause larger problems and the need of a boiler repair service when it's already freezing cold out; which is a bad time to find out that your boiler heating system is not functioning properly.
Boiler repair Philadelphia
One of the powerful attributes that a boiler heating system in Philadelphia utilizes is that nature does most of the work. The boiler takes advantage of the power of steam and its ability to travel in a regulated manner throughout a system. This pressurized system will send heat in the form of steam through a closed system returning back to its source as water to be reheated and recirculated again and again. Daniels HVAC is a boiler repair Philadelphia that has years of experience with multiple types of boiler systems. We not only understand and work with the different types of boiler heating systems but we are factory certified as a boiler repair service on many different types of boiler heating systems. Over the years we have found that certain types of repairs are more common than others when responding to boiler repair service calls in the Philadelphia area.
---
Daniels HVAC has been Serving the Philadelphia area for over 25 years. Call today to see the difference experience can make! (267) 971-3639
---
Boiler repair service – Circulating pumps
A common boiler repair Philadelphia is when the circulating pump, which pushes the hot water into the radiator, baseboard or radiant heating tubing, may fail causing either a lack of heating ability within that room or even a complete stoppage of water flow throughout a single line system. This electronically actuated device may fail mechanically or electrically so it is important to make sure that the boiler repair Philadelphia that you choose is well-versed in the diagnosis of these systems. Because the circulating pump can also work from a central thermostat programmer, all avenues of diagnosis must be considered before simply replacing the pump.
Boiler repair service – Boiler leaks
A common problem that Daniels HVAC finds when being called to a boiler repair Philadelphia is that a leak in the boiler heating system is the cause for the lack of heat. This elusive boiler repair can be something as simple as a repair on the boiler fittings, up and through to, one of the lines leaking within the walls. Speedy diagnosis and boiler heating system repair is necessary to prevent further damage of the unit, walls or more from a leaking boiler system. Sometimes a boiler repair service in Philadelphia reveals that the leaking pipe is positioned in such a way that it's releasing steam and losing pressure, which decreases the flow of steam in the boiler heating system. Daniels HVAC utilizes our experience as an expert on boiler heating systems in Philadelphia for over 25 years to quickly diagnose and track down the problem and the facilitator repair that, many times, is done without the need of expensive parts.
Don't Condemn the boiler heating system too quickly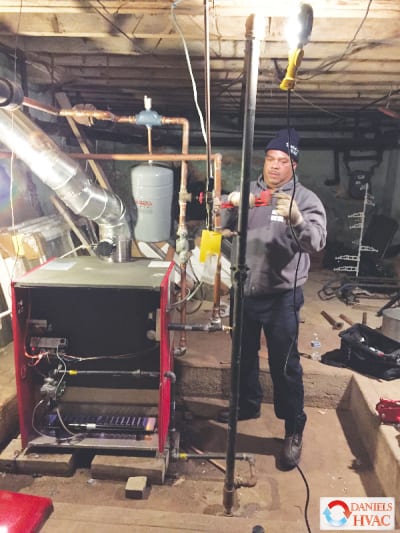 Naturally older boiler systems may require a boiler repair service to be performed more often because of the age of the components. Many HVAC companies in Philadelphia are quick to condemn a boiler system that is over 15 years old, however; Daniels HVAC has found that condemning boiler systems prematurely is an unnecessary expense. If the boiler integrity is sound with no cracks in the combustion chamber or the pressure vessel, then an older boiler system can last many years longer than many unexperienced HVAC companies may want to admit. Our access to older boiler system components makes us the ideal choice to help keep your boiler system in top condition for many years to come.
The experts at Daniels HVAC in Philadelphia have gained a reputation over the last 25 years of being straight shooters with their customers. We would never recommend the installation of a boiler heating system unless some of the following factors would apply to a boiler repair service:
Regardless of the boiler repair, the integrity of the boiler (age) jeopardizes the safety of your home or business
The cost of boiler repair for a single visit exceeds 40% of the cost of the new boiler heating system.
The cost of a boiler repair in Philadelphia becomes excessive (More than 4 service calls per year)
If the current efficiency level of the boiler heating system is effecting the monthly budget
The age of the boiler heating system makes either the cost or the practicality of a boiler heating repair ineffective
A changeover to a boiler heating system that utilizes a safer means of heating fuel
A home addition or renovation that would strain the current size of your boiler heating system
The professional at Daniels HVAC in Philadelphia do not have high priced commissioned sales people nor do we get kickbacks from manufacturers that would motivate us to encourage you to prematurely replace your boiler heating system. It's simple, we use our experience and our connections to get you the best price possible on a boiler heating system installation Philadelphia.
Useful Links 
Learn more about Daniels HVAC in Philadelphia – Click Here
Learn more about boiler heating systems – Click Here
Learn more about our services – Click Here