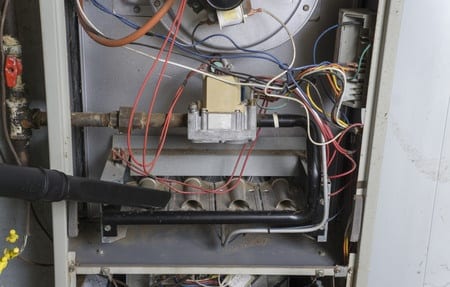 Now that we are squarely in the winter season here in Philadelphia there are several common repairs that we see for heating systems. Chances are that you will have problems with your heater at some time and if you should then Daniels HVAC is here to help. As seen in our previous articles, we like to provide useful tips and information on how to keep your HVAC system running its best as well as things to look out for that can cause more expensive repairs.
In this article were going to address a few of the more common issues that we see during the winter months here in Philadelphia.
Lack of Maintenance and Cleaning
One of the things that leads to premature failure of furnace components is the lack of maintenance and cleaning. When debris builds up in the blower fan or dust contaminants buildup within the igniter and switches it can cause these components to fail. Because most heaters (whether it be an electric furnace, gas furnace or boiler water heater heating system) are positioned in the basement they can be susceptible the dirty conditions that are often associated with the basement environment. We've even seen buildup in the heating system components because of clothes dryers that were not vented properly, therefore putting lent materials into the air causing a buildup on the electrical components, motors and igniters.
It is important to make sure that your heater, regardless of the type of system, is free of debris and contaminants that can cause premature component failure. If you hear the warning signs of component failure; such as a squeaky blower motor or rattling sounds, be sure to contact Daniels HVAC in Philadelphia to come out for an inspection and repair before you get left out in the cold.
---
Daniels HVAC has been Serving the Philadelphia area for over 25 years. Call today to see the difference experience can make! (267) 971-3639
---
Gas Furnace Ignition Failure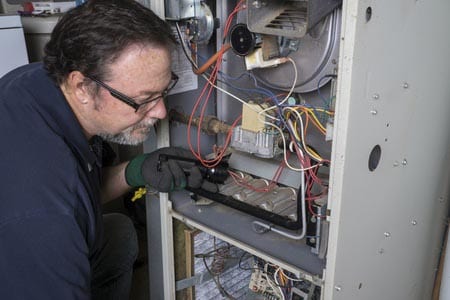 One of the common repairs that we find during the winter months in Philadelphia is ignition failure within a gas furnace. Because these components fire dozens of times a day, these are crucial components to the proper function of your gas furnace. Gas furnaces have a pilot light that ignites the fuel to warm the air with in the combustion chamber, this pilot light is connected to a thermocouple that regulates the gas and will shut the gas off if the pilot light becomes extinguished.
If the pilot light is not functioning then the gas furnace will not produce heat. Components that are prone to fail are the flame sensor, gas control valve and spark igniter; however, proper diagnosis will determine which one is causing the trouble or simply needs to be cleaned and adjusted.
Blower Motor Failure
There are many things that can cause blower motor failure in the electric or gas furnace inside your Philadelphia home or apartment. Often times resulting from either a lack of maintenance or age; the blower motor is the central component that takes the heated air and circulates it through a series of ducts throughout your home. Aside from an electrical short within the motor, the blower motor failure will traditionally present itself ahead of time by making noise as the bearings begin to fail or debris begins to task the unit. Daniels HVAC's 25 years of service in the Philadelphia area has given us the experience to take care of heaters of all ages and locations. Our unique access to components allows us to repair older furnaces, rather than complete unit replacement; which can save you time and money.
Put our Experience to Work for You!
Daniels HVAC has earned its reputation as the premier heating repair service in Philadelphia. By offering outstanding service, competitive pricing with a value-added mindset we've been able to keep Philadelphia comfortable for over 25 years. Whether you need furnace maintenance, furnace repairs or it's time for a new furnace; give us a call and let us put our 25 years experience to work for you!
Useful Links
Learn More about Heater Repair Services offered By Daniels HVAC Philadelphia – Click Here
See what our customers are saying about our HVAC Repair Services Philadelphia – Click Here