Electrician repair services in Philadelphia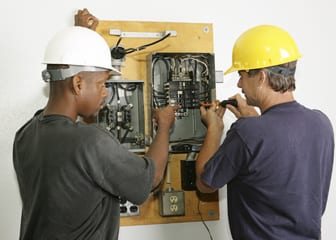 When you are in the middle of a football match or watching your favorite program, and the lights go off, you get annoyed. This is where a licensed and qualified electrician bumps in to save the day. Even though you are familiar with some of the electrical issues, somewhere down the line, you will require an expert. Philadelphia region has some well-trained electricians who can offer several services to your satisfaction which include minor repairs, electrical projects, and new installations or constructions. They are fully insured and deliver their services to businesses and homes. More so, they prevent your property from blowing up. The truth is, any electrical malfunctions are very dangerous especially if the wires are exposed
Having some of the best electrical installations requires experience. Even if the installation is done by a professional, sometimes it just fails due to some faults. These unavoidable flaws are the ones which will require the best electrical repair services and especially in Philadelphia. This is one of the best places you can live in, and it sucks when you have a faulty electrical installation.
Residing in an area where electricity is a must means that it is not acceptable to have an electrical fault. Philadelphia is one of the places where you can never stay without power. An electrical fault here means you have to get a person to repair it as soon as possible. There is no way you can stay here without electricity. An electrical fault can be more dangerous than leaving a kid alone at home with the gas on. You don't know when it can ultimately fail or when it can bring a serious fault to your house. There have been cases where electrical faults have caused fires damaging property worth a lot of money. In Philadelphia, an electrical fault can cause unimaginable damage if it gets to a serious point. There are regulations in place which people are supposed to follow when doing electrical installations.
First of all, the person you are contracting to do your electrical repairs must be registered, and he or she must have a valid working license. If you are having doubts with your electrician inquire about their qualifications and whether they are licensed to do electrical installations to be on the safer side.
Here are some electrical Services in Philadelphia that Daniels HVAC can assist you with:
Complete Service Upgrades
Breaker Panel Replacements
Service Cable Replacements
Meter Socket Replacements
Sub Panel Installations
Proper Grounding and Bonding of your electrical service
Home Electrical Inspection and Repairs
Kitchen/Bathroom/Basement Wiring
New Construction Wiring
Recessed Lighting installation
Outdoor & Landscape Lighting
Ceiling Fan installation
Bathroom Exhaust Fan installation and repair
Updated Appliance Electrical
Code Violations Corrected
GFCI Protection outlets
Home Entertainment Wiring & Installation
Smoke & Carbon Monoxide Detectors
Convenience Electrical Receptacles
Under Cabinet Lighting
Outdoor Receptacles
Low Voltage Lighting
Phone & Cable Wiring
LED Lighting updates and repair
Electrical Troubleshooting
Philadelphia is one of the safest places and your efforts to get a good electrician is one of the things you can do to make it safer. 
Useful Links
Learn more about our electrical repair services Philadelphia – Click Here
Learn More about Daniels HVAC in Philadelphia – Click Here
See what people are saying about us – Click Here