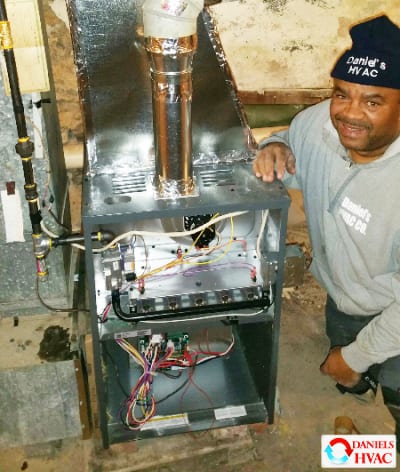 Furnace repair installation service philadelphia
It's one of those little things that you don't think about until you need to but when it gets cold in Philadelphia it sure does remind you fast. Furnace repair installation service Philadelphia is something that can be as simple as a little cleaning around the blower motor all the way up to replacement of the unit. Because there are so many different types of gas furnaces installation service that are used in the Philadelphia area the need of a HVAC specialist becomes very apparent when you consider the price of parts and an incorrect diagnosis can end up costing you much more than a service visit. Consider also the fuel source such as a gas furnace repair; when not repaired properly, it can create a significant danger to your home or business. Gas can build up harmful fumes poisoning the air slowly or even be ignited causing severe damage or worse.
Preventative furnace repair Philadelphia
The general rule to keep your gas furnace in top condition and reduce the need for furnace repair Philadelphia is a little preventative furnace maintenance. Having an HVAC specialist examine your furnace periodically can help determine if there's any problems that may leave you out in the cold. If furnace repair Philadelphia is needed there are several quality HVAC furnace repair service companies in Philadelphia that can certainly do a great job for you, but with so many furnace repair installation services to choose from how do I know which one is the right one to call? Daniels HVAC has been serving Philadelphia for over 25 years and has developed relationships with parts suppliers and retailers for hard to find parts for older systems as well as ties with most major furnace manufactures to give you the best price available when needing a furnace repair Philadelphia.
Daniels HVAC in Philadelphia has extensive experience with all types of gas furnace installation Philadelphia. Because there are so many different gas furnace heating systems in Philadelphia it is important to choose a company with years of experience on a variety of furnace systems and types of furnace repairs Philadelphia:
Central warm-air furnace

Steam Boiler – Hydronic Boilers

Heat Pump 

Oil fired Furnace

Floor, wall or pipeless furnace

Built-in electric furnace units
Furnace Repair Diagnosis service
One of the areas that Daniels HVAC serving Philadelphia for over 25 years excels in is diagnosis for a furnace repair service. Many furnace repairs service have very similar symptoms requiring someone with many years of experience in multiple systems to make a quick determination of the problem and the course of the furnace repair. Because most furnaces use a dual power system, meaning that there is a base power supply and a relay switch through a thermostat… the solution for a proper furnace repair is not easily revealed.  
Many HVAC furnace repair services in Philadelphia use general laborers in the attempt to save money when they come out to your home or business for a furnace repair diagnosis service, the end result is they're doing on-the-job training on your dime!
At Daniels HVAC in Philadelphia we invest our experience working with many different types of gas furnace systems to properly diagnose and repair the problem quickly and accurately. We use state-of-the-art diagnostic equipment to make sure that the furnace repair diagnosis backs up our diagnosis and estimate. In many cases furnace repairs diagnosis service Philadelphia can be made without any unnecessary replacement of parts… Which is where experience really pays off.
When is furnace installation is need rather than repair?
The experts at Daniels HVAC in Philadelphia have gained a reputation over the last 25 years of being straight shooters with their customers. We would never recommend the installation of furnace unless some of the following factors would apply to a furnace repair:
Regardless of the furnace repair, the integrity of the furnace (age) jeopardizes the safety of your home or business

The cost of furnace repair for a single visit exceeds 40% of the cost of the new furnace.

The cost of a furnace repair in Philadelphia becomes excessive (More than 4 service calls per year)

If the current efficiency level of the furnace is effecting the monthly budget

The age of the furnace makes either the cost or the practicality of a furnace repair ineffective

A changeover to a furnace that utilizes a safer means of heating fuel

A home addition or renovation that would strain the current size of your furnace
The professional at Daniels HVAC in Philadelphia do not have high priced commissioned sales people nor do we get kickbacks from manufacturers that would motivate us to encourage you to prematurely replace your furnace. It's simple, we use our experience and our connections to get you the best price possible on a furnace installation Philadelphia.
As a matter of fact if find that another HVAC in Philadelphia is cheaper for comparable workmanship and parts… We'll beat it every time!
Useful Links
Learn more about our Furnace Repair Services Philadelphia – Click Here
Learn More about Daniels HVAC in Philadelphia – Click Here
See what people are saying about us – Click Here