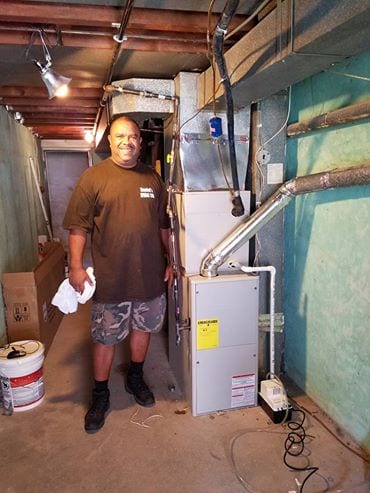 As the temperature begins to get cooler here in Philadelphia it's time to start thinking about running your heater. While you hope that just turning the thermostat down would be all that you need; Daniels HVAC would like to provide you with some tips to make sure that your gas furnace is running efficiently and safely through the winter season.
Change your Gas Furnace Filter
For some HVAC systems in Philadelphia the air conditioning filter and gas furnace filter are separate. In this case especially you need to make sure that you check and/or replace the gas furnace filter. Depending on the location of your gas furnace filter you may need assistance to replace it (some gas furnace filters are located in crawlspaces that are not easily accessible). If you need assistance replacing your gas furnace filter be sure to contact Daniels HVAC in Philadelphia are fast and efficient service.
Inspect and Clean the Gas Furnace Ductwork
This often forgotten service one that can vastly improve the efficiency of your gas furnace in Philadelphia. Heavier collected dust and debris can easily get into your ductwork from floor mounted heater vents and the return vent. From normal daily use of walking over the grates, debris from your shoes can go down inside the ductwork and eventually work their way down to the blower motor. Many older gas furnace heating units in Philadelphia do not have a separate screen or filter for the blower and therefore these larger pieces of sentimental or debris can cause damage to the blower motor. While it is ideal to do the inspection and cleaning annually, Daniels HVAC in Philadelphia recommends once every three years, at a maximum, to have your HVAC ductwork blown out professionally.
Inspecting the Gas Furnace Chimney
It is very important that the chimney or flu of your gas heating system in Philadelphia is free of debris, the gas heater chimney is what removes harmful fumes such as carbon monoxide safely from your home. Because these gases are also very hot, flammable debris in the chimney can naturally become combustible. Many fires in Philadelphia are caused each year because of twigs, grass and other materials being placed by critters into the chimney when it is not operating in the spring and summer months. A quick inspection of the gas furnace chimney can save you an unnecessary call to an Daniels HVAC repair service OR to the fire Department!
---
Daniels HVAC has been Serving the Philadelphia area for over 25 years. Call today to see the difference experience can make! (267) 971-3639
---
Gas Furnace Unit – general inspection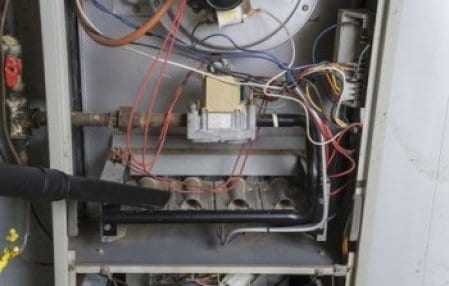 The gas furnace unit is the heart of the heating system in your Philadelphia home. Careful attention should be made when removing panels to inspect the burners, the combustion chamber, wiring, blower motor and blades (also known as a squirrel cage). Be careful not to use any type of flammable cleaning chemicals or utensils that may damage the burners or combustion chamber. Carefully inspect for damage and corrosion on the burners, cracks in the lining of the combustion chamber and damage to the blower fan blades due to debris. You also want to make sure that the area surrounding the gas furnace is free of dirt (never place or store flammable materials within 10 feet of the furnace).  
The wiring of most gas furnaces in Philadelphia are exposed directly behind the inspection panel, because the gas furnace area is traditionally very hot, the coverings of these wires become brittle and crack (usually after 5 to 7 years of use) Use extreme caution when around these wires! Electrical shock hazard is very likely if you attempt to inspect the unit during operation with these wires exposed. Because of the sensitive nature of a gas furnace, it is highly recommended to have an HVAC professional maintenance and repair service such as Daniels HVAC in Philadelphia, inspect and maintain your gas furnace to make sure that it is safe and running efficiently.
When Experience Counts
Daniels HVAC has been providing excellent gas furnace inspection, maintenance, repair and installation services to Philadelphia residents for over 25 years. Our reputation for customer satisfaction is only matched by our desire to make sure the customers get the best value for their gas furnace needs. Because of our experience we have the ability to get hard to find parts for gas furnaces in Philadelphia rather than replacement of the unit. Daniels HVAC will never make a recommendation for unit replacement unless it's absolutely needed. Be sure to trust proven experience when choosing the HVAC company that will provide your gas furnace inspection, maintenance, repair and insulation needs.
Useful Links
Learn More about Heater Repair Services offered By Daniels HVAC Philadelphia – Click Here
See what our customers are saying about our HVAC Repair Services Philadelphia – Click Here